When learning how to replace toilet seats first thing we need to learn is to be safe. Always wear a pair of rubber gloves just to stop diseases spreading. Remember we are working with a toilet here. Like a lot of things there is many ways to do a job and this is my system on how i do it.
Step 1-Check The Size Of The Old Toilet Seat
Toilet seats come in a variety of sizes. Check the measurements of the seat's fastening bolts to make sure you buy a seat that will fit properly for your toilet bowl. Some toilets are more rounder the others as well so as well as the distance between the fastening holes measure the distance of the rim like below
.The size and spacing of mounting holes for most modern toilets are standard same as the width of the seat (with small variations). The most important thing to know is if your seat is round or oblong. Round seats are about 16 inches (40.6 cm) from front-to-back, and oblong are about 18 inches (45.7 cm) from front-to-back.
Step 2-Out With The Old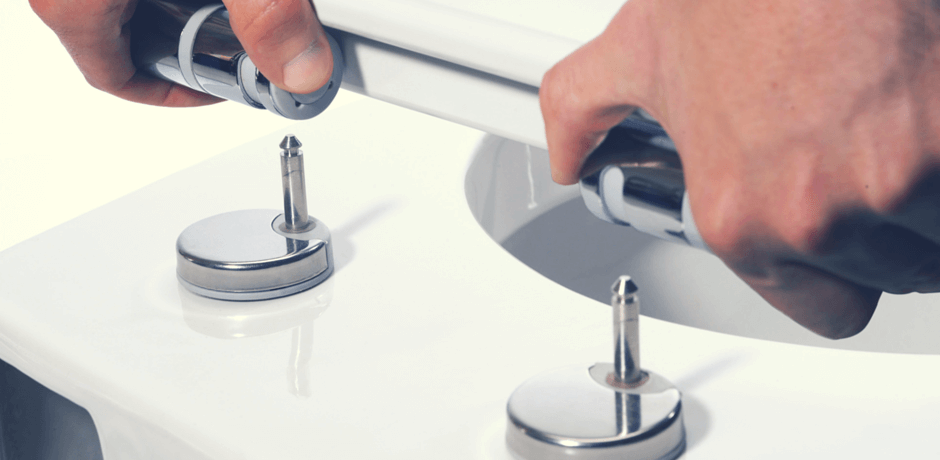 When replacing a toilet seat always close the lid before getting down onto your knees and kneeling in front of the bowl. Just one of those personnel things when leaning over the toilet undoing the nuts. There is no set way so once you have the gloves on just undo the plastic huts that holds the seat on. Once both are unscrewed just lift the toilet seat assembly up off the bowl. Once the set is off now is a good time to give the top of the bowl a good clean with disinfectant before installing the new seat.
Step 3-Install The New Toilet Seat
Slide the plastic bolts into the slots on the back of the new seat and then insert the bolts into the holes at the back of the toilet bowl.  Screw the wing nuts onto the plastic bolts and tighten them up firm. Don't go over board on the nuts as remember there only plastic. Once the nuts have been firmly tightened up the seat is installed and ready for use.
Conclusion:
Well there you have it. You have learnt how to measure a toilet bowl to see what size seat you need when looking to replace the old one. How to remove the old and install the new seat once you have found the one you like in it's simplest form. Some seats maybe bit more involved but the principle is the same.